This is just a quick list of things that I'm considering for while I am away from my husband. Many of these have been suggested by you. Feel free to add suggestions:
1) Chastity cage
2) Naked in house
3) Minimum clothing outside
4) Shower before bed
5) Sleep without covers
6) Webcam and person monitoring him
7) Ankle cuffs to slow his movements
8) He should tie himself to the bed at night
9) Yardwork and home improvement
10) Exercise
11) Diet
12) Email to me each day with detail as to what he did
13) Write something erotica on the blog every day or two to keep him hornier
14) Keep body shaved and clean
15) Buttplug for at least an hour a day
16) Wear collar in house
17) Day to day things like job search, pay bills, etc.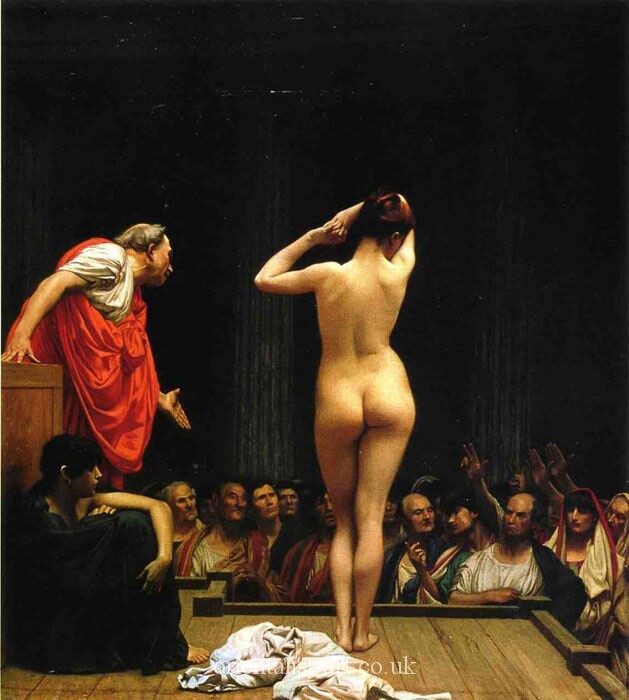 I'm not saying that I am or am not doing all of this. Well, you know I am doing some. The first five are certain. He already sleeps without covers but does wear bed clothes because of our child. Anyhow, I thought that I would list the ideas here to share as ideas come in. This weekend, I will set the final Rules of Behavior and assign him the 'monitors'.
Since I will not have a computer with me all of the time, I will probably have him keep this blog fresh for me so that this doesn't get stale as it did when we were having our biggest problems. Maybe this is a good time to have him share our early stories doing things at the beginning of our relationship. Those are very erotic. I can always dictate to him over the phone and have him write it up. I often have him clean up my blogs as he is the better writing editor. I also like the pictures he finds. This slave auction painting is a great example. Anyhow, enough for now. New pictures of us soon, I hope.