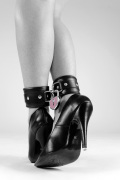 It feels like a new television season to me for our play time. Between husband looking for work and daughter at school, we will have much more time to play starting next week. It reminds me of three years ago when he was working from home for about a year. I think we had more intimate time then than ever before or after. Now with the changes to how we play, there should be a good amount of fun and post-able material. So far, the ideas that I like most are a picture of my shoe on his cock both caged and uncaged. Another would be him having an orgasm on my shoes. I like the idea a friend online suggested where I set it up in our closet so that his hands are tied over his head while his legs are tied spread to the walls. I can then spank him and tease him as much as I want and he can't do very much to stop me. If someone stops by or I need a break, I can just close the door. Another version of that I want to try is doing that in the backyard. I would tie him up, tease him over and over and then go swimming with him naked. Of course, I would not let him orgasm - just play with him that way. If I do that, I will be sure to take pictures. Doing things outdoors is a fantasy of mine that I am thinking that I should try. Someone else wants a picture of him naked and me dressed. I might do that but I really don't want to show faces. One of him licking me down there is a possibility.
Any other thoughts and ideas for me?
Reminder that I am happy to talk about other topics or questions in the FORUM area at the top. If anyone wants a particular topic added, tell me and I'll add it.
PS: While I was getting ready to go out and run a few errands, my husband saw me naked in the bathroom getting ready. As we had some privacy, he massaged my chest very nicely before sliding a hand down lower. Very quickly, I needed to lean against the counter as he found my clit. Within at most two or three minutes, I was having a nice orgasm. I proceeded to tease him for about a minute before sending him on his way.